A day in the life of a Nursery volunteer
By Alex O'Byrne
4 years ago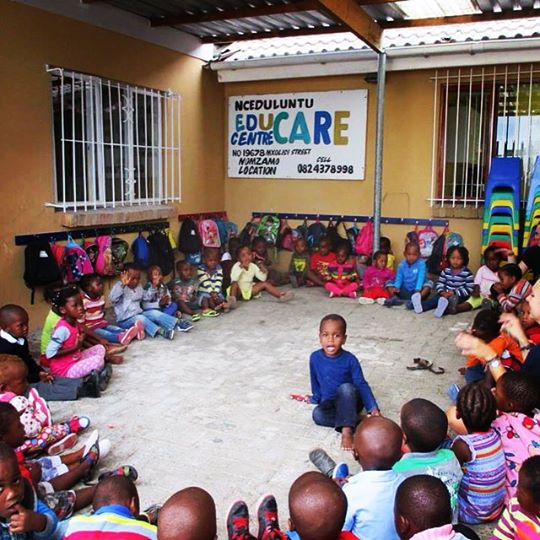 9am: Pull up at at the nursery to the raucous but heartwarming sound of children chanting 'TEACHA TEACHA TEACHA'. Expect many a high-five on arrival!
9.10am: Help staff serve breakfast and feed the babies. Careful, the porridge is hot!
9.15am: Circle time (pictured above) Days of the week and a sing-song to get the day started, all the tunes of which will be running through your head for days to come…Followed by reading books in small groups (make sure to point out numbers and colours as you go)
9.50am: Hand washing. 'One by one, hey!' we line up the children so they can wash their hands before…
10am: Time for snack. Play the game of pairs. Matching the backpack to the child can be tricky with over 30 Xhosa names to read and pronounce, but we always get by with a little help from our Xhosa-speaking friends!
10.30am: Lesson time! Taking the children a few at a time into the classroom, we present a carefully planned 15-20 minute lesson including all sorts of fun activities. Past lessons include making Giraffe spots out of coloured tissue, Lion's manes out of hand-prints and Jellyfish out of papier mache balloons (all with a side of letters, colours and numbers, of course!)
12.20pm: Time for a quick round of hand washing again before serving a delicious lunch prepared by the local carers, 'Teacha me, teacha me!' one table at a time.
1pm: Nap time. We lay out mats and blankets and take off shoes as the little humans curl up for a quick snooze, all bundled together in a lovely sleeping heap. Giving us a chance for…
1.15pm: Teacha lunch time!
2pm: Time to wake up. We'll line up the (sometimes still half-asleep) children and help them get to their shoes. Another game of pairs, with the added trick of making sure all the shoes end up on the correct rights and lefts!
2.15pm: Quiet lesson time will often include colouring or puzzles to help with fine motor skills and reiterating lessons on colour.
3.30pm: Time to go home. Make sure you get a good meal and plenty of rest because you get to do it all again tomorrow!