By Isobelle Cook
4 years ago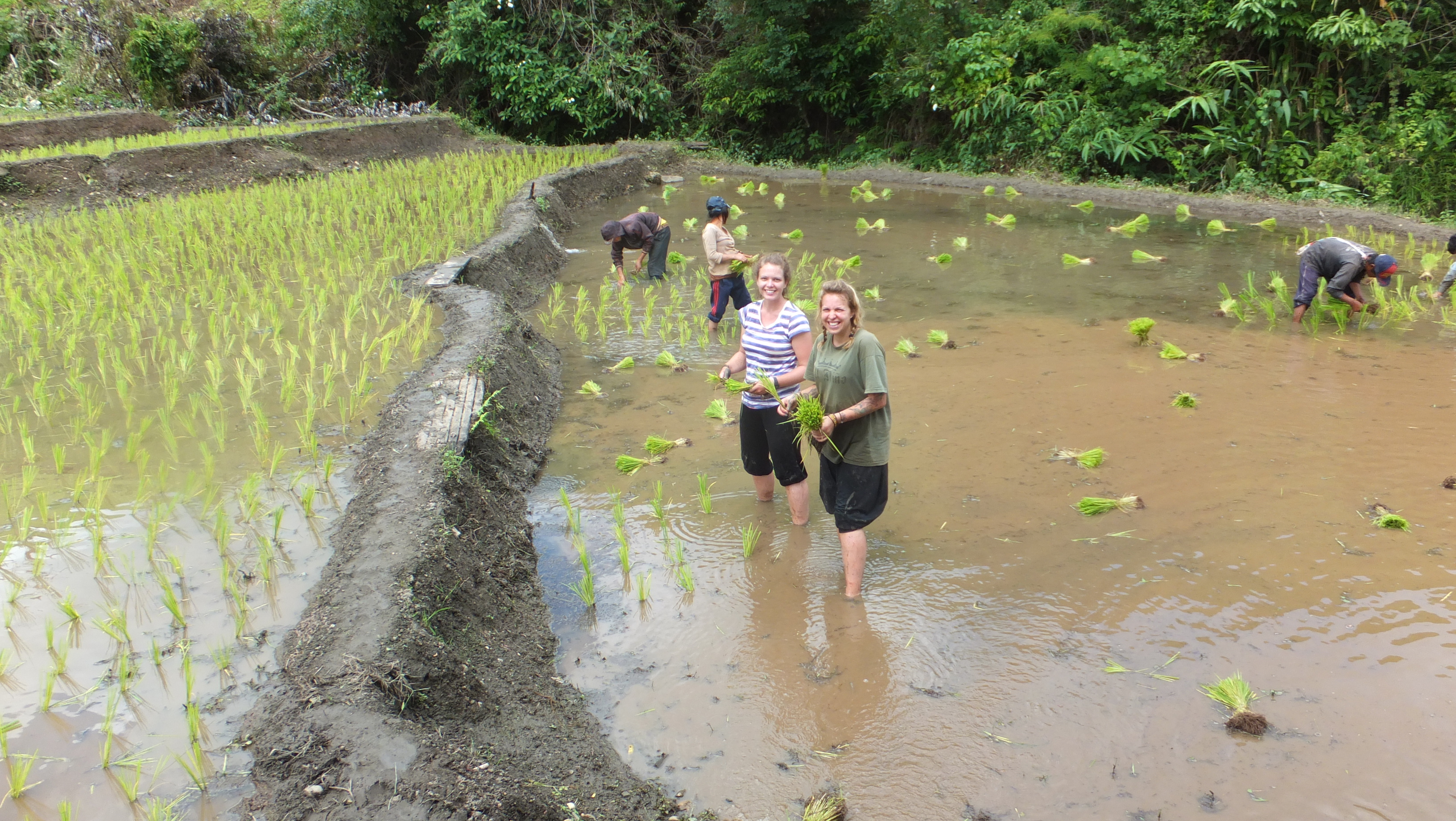 I had the pleasure of helping out my homestay, Root, in his rice patty field. There were about 20 of us all helping out to plant the rice, mostly extended family of Root's. It is amazing to think that this is what they do almost every day of their life.  I'm not going to lie, it's hard work! My legs are still hurting 2 days later. We arrived at the field at about 8am, crisscrossing around the patty fields to a little hut in the middle of the field. Climbing up the bamboo steps, I was amazed to see so many people there already. All the men smoking their cigars and the women all gathered together. After several conversations and fire cooked breakfast for some we began work in the field. Squishing and smudging our bare feet into the muddy field was a gooey yet surprisingly soothing feeling. Almost like a day spa for your feet! As we began planting our bundles of rice we were given comments of "Yah salo" (I like), perhaps just given us motivation. I was soon told that my bundles were too big, whoops! "Dah sinya bah" (No worries).
By mid-morning I was beginning to stiffen up, sore back and legs are inevitable with this work. Gemma comments "Oh, that looks like a python hole there", great! Just another thing to think about that might be squirming around in the mud with all the tadpoles and frogs.  Never mind there's no need to fear, when there's 20 people around you with a wealth of knowledge of the native wildlife. We stop for lunch and everyone make their way back to the hut. After a delicious meal all freshly cooked on the fire, it's time for an afternoon siesta. After about an hour or so lunch break, it was back to work.
As the day goes by, the back aches more, but mood of the group is still the same, everyone continues the positive chit chat. There is always the odd mention of "Gola" amongst conversations, no doubt they are commenting on how good our work is! By about 4pm it's time to call it a day. Root instructs us the finish before everyone else, because we are too slow to walk back up the hill (which is true). The villagers are very strong and it almost seems like they run up the hills with little effort at all. The day certainly gave me a great appreciation for the work that the villagers do, and how much effort goes into growing rice. The hard work was all worth it and I'm excited to see what more I can experience in the village of HuayPakoot!