Curieuse Island Construction Volunteering - Tortoise Selfie, Chicken BBQ, "Fruit Coolers", Kitchen Improvements
By Dan Davies
4 years ago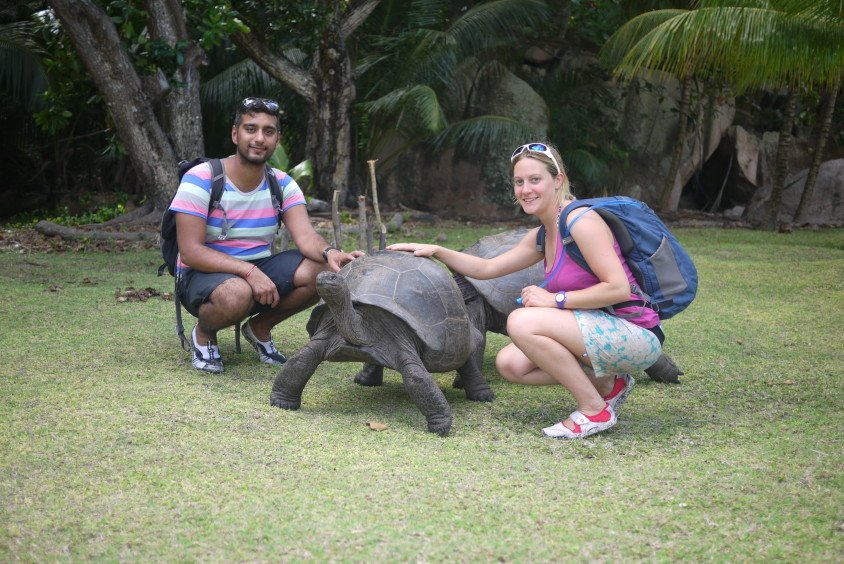 Time is flying by here on Curieuse and we are already into our second week. We had a chicken feast of a barbeque to wave goodbye to week one which was washed down with a few well deserved beers and "fruit coolers". However the only thing we could think about was the early rise on Saturday to take us on the famous Paradise Sun buffet breakfast and it really did live up to our expectations. We managed to fulfil all of our fresh fruit, bacon, cheese, nutella and waffle cravings before basking in the sun by the pool and taking advantage of the WiFi to get back in touch with the world.
On Sunday I finally got the chance to say hello to some of the giant Tortoises that share the island with us. They are pretty much the best things I have ever seen and they have a pretty awesome life as they get to lie and eat around all day in the Seychelles sun looking out onto the beautiful ocean, the only negative being that they have to put up with us trying to get a shameless selfie to send back home.
Being a construction volunteer, along with Sofia, here on Curieuse, our job is to build and fix up anything that would improve day to day life on camp. We have been working on a number of little kitchen improvements, storage for future volunteers and a new hand wash station for the toilets. Getting materials here is pretty tricky so we need to be creative in our thinking. The main material that we already have here is Takamaka wood which grows all around. It's by far the toughest and most frustrating wood I have worked with as it is impossible to nail though and seems to just destroy metal drill bits. Our next goal is to build a large unit for the kitchen which will incorporate a bread making area and a recycling station. We plan to make this out of old bunk bed frames so fingers crossed it all works out.
In all, the second week seems to be going as fast as the first which is bad news as next week will be my last. 🙁