Creative Arts Volunteering in Mombasa
Creative Arts Volunteering in Mombasa
My first week volunteering with GVI in Mombasa consisted of helping out at the holiday program at Nyota. This ranged from assisting sports lessons to reading stories to the children. 
Volunteer Hannah playing pin the tale on the monkey, during the holiday program
The holiday program was a great way to be introduced to teaching, as it gave us a chance to get the know the children and be introduced to teaching in a more laid back environment. 
Volunteer Hannah and Nadia reading to the younger standards of Nyota
Then I moved to Olives to begin teaching art as a skill and being more than just a fun lesson of colouring. Despite the fact that Creative Arts is a difficult subject to teach if the children do not already have an interest in it, it was clear from day one that so many of the children in all standards had such a talent and enthusiasm for the subject, which made my job a lot easier!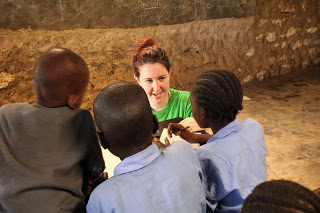 Volunteer Hannah teaching at Olives.
 Lessons so far have ranged from looking at the details and proportions of the face in the older standards to getting the younger standards to design their own patterns.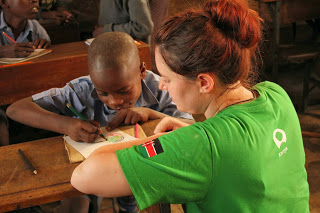 It's a really great feeling to see the students learn from you and produce work it's clear they are very proud of. 
Volunteer Hannah conducting a one to one reading lessons
By Hannah Flint – Creative Arts Volunteer