Cozumel scubafest great success!!!!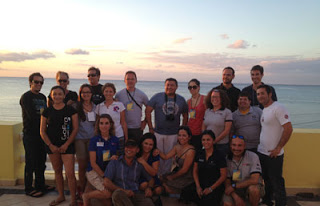 Last Sunday the Cozumel Scuba fest took place, it was a 4 day event  that brought national and international diving organisations, dive professionals and diving lovers to this Caribbean Island. The entrance to the event was free and there were very interesting talks to attend on topics like diving and archeology, diving and safetyness, the premiere of Philip Cousteau documentary "my father", etc. 
GVI Mexico, as an organisation that works in the Yucatan Peninsula and winners of the Divers alert network (DAN) people's choice award as the diving operation with the safest standards, were invited to attend as special guests. thank you very much for the invitation and congratulations to the organizers for this amazing event!! 
To read more about it please click
here
Subscribe to our Blog
GVI on Instagram
Sorry:

- Instagram feed not found.
GVI on Facebook