Construction projects make a difference.
By Cheryl Martin
5 years ago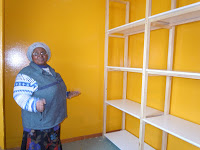 We've been fortunate enough to have a number of construction volunteers recently who have made some great contributions at our sites.
They have made some great shelves at Ikhayalethemba. The shelves are designed so that the children's clothes can be sorted making them easier for the carers to access. The volunteers also added extra shelves to the children's wardrobes providing more space and easier accessibility. Mama Lumka was delighted with the results.
Shelves were also a theme at Grade R. Three lots of new shelves has meant that teacher Grace has been able to store equipment and books more efficiently allowing more floor space for the children.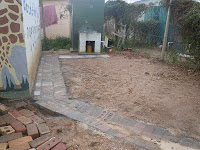 Outside at Grade R, drainage has always been an issue. Our volunteers helped out by building a drainage channel and so now on rainy days, the water flows out of the area making it much drier. There are also are new paved paths making moving around the site much easier, less muddy and definitely drier.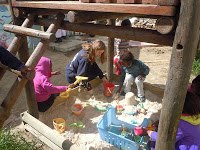 A new sandpit has also been a great addition which was  incorporated into the existing jungle gym. A very popular addition in the eyes of the children.
Aside from these tasks there are the "odd jobs" such as replacing missing windows with plexi glass, repairing doors, adding latches to doors, repairing fences and mounting coats hooks.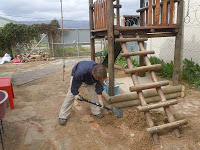 Our current construction volunteer is doing a great job making a border around the jungle gym at Grade R ready for some mulch to give it, a soft fall area for the children, some and extra drainage and a great new look.
Our construction projects really make a difference to our project partners, the carers and the children. It's amazing what can be achieved in a short space of time.
Cheryl Martin