Construction Project gets underway.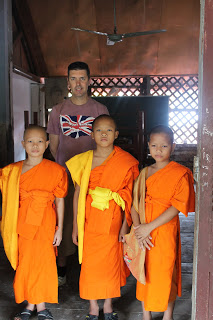 GVI Laos broke new ground in Luang Prabang with our first volunteer on our construction project. David Bartlett, a fair dinkum Aussie, joined the project for 2 weeks during August. David worked on the refurbishment of the 2 classrooms at Wat Mano Primary School. This is the only Primary School in Luang Prabang dedicated to young Novices still completing their primary education. Any previous volunteers who worked at Wat Mano would be well aware of the below standard quality of the classrooms. Now, the walls have been lined and freshly painted and the desks and benches have been repaired and painted. Thanks to David, the students will be returning to school in September to classrooms that are pleasant places to work in. David, we can't thank you enough for your work. Well done!
Subscribe to our Blog
GVI on Instagram
Sorry:

- Instagram feed not found.
GVI on Facebook