Community Events in the Parismina Primary School Begin!
GVI has always had the goal of supplementing their conservation work with community-related events. This isn't always easy logistically and for a while, our GVI base in Jalova wasn't able to have an ongoing community outreach program. Fortunately we found ways this last month to budget the appropriate time to create a community program. What we decided was that we would teach environmental education in the primary school in the nearby town of Parismina, a 25-minute boat ride away, once a month. I think most of us would ideally like to go twice a month or more, but given the need for people on base and the need to conduct the right amount of survey work, this seemed like a good balance. Our plan for the teaching is to send a team of both staff and volunteers to educate the childen about relevant environmental concepts, focusing on ecosystems and other topics that are applicable to their lives here on the Caribbean side of the country. For example, we'll cover ecosystems such as Jungle, Canals, Streams/Rivers, Beach/Ocean and Cloud Forest (which isn't found right here but is still something most of them will see eventually), but we'll skip things like Desert or Tundra as there is none of that down here! We plan on building on these concepts month to month, reinforcing previously covered topics and introducing new ones, and doing our best to correspond our own teaching to the environmental education they'll start receiving in their normal classes later on in the year.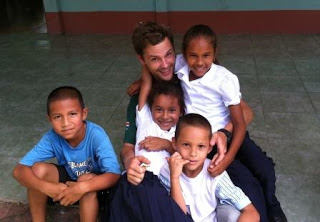 James making some new friends
This last Friday, we were able to finally have our first session. We sent seven people to the primary school, 3 staff and 4 volunteers, and taught grades 1 to 6. I taught the lessons for the day and the other staff and volunteers helped prepare materials, draw on the whiteboard as I spoke, hand out prizes for right answers, run the stations during our small-group activities, and overall keep things running. The lesson for the day was simply covering the 5 ecosystems I mentioned above, talking about what makes each one unique and what adaptations certain animals have that allow them to survive in that ecosystem. The next 5 sessions will cover each ecosystem in more detail, and then we can move onto topics such as human impacts and ways of conserving the environment, and it appears as though we might be able to get the kids out to our base for the day later on in the year for a field trip! Though this isn't a finalized plan yet.
Posters we made with the kids!
The day went well and the kids were very excited. We had a lot of activities that involved them sharing their previous knowledge and getting them to think critically about which animals belong in each ecosystem and why, and it was easy to see how well this type of activity worked. Our small group activities went very well too and we created several large posters, each composed of 5 sheets, one for each ecosystem. The kids were given animal cutouts and had to put it in the right ecosystem. When they got it right they were able to colour it in, put their name on it, draw on the big ecosystem paper if they wanted to, and write anything they remember about that ecosystem. We ended up with some nice looking posters!! We were all content with how the day went and I think everybody is excited to go back next time. It's a good feeling to know that we're now able to get out into the community and make our presence a bit more known, and hopefully bridge a stronger a connection with the people who live nearby.
-Kevin, Expedition Field Staff
Subscribe to our Blog
GVI on Instagram
Sorry:

- Instagram feed not found.
GVI on Facebook