By Gareth Holden
2 years ago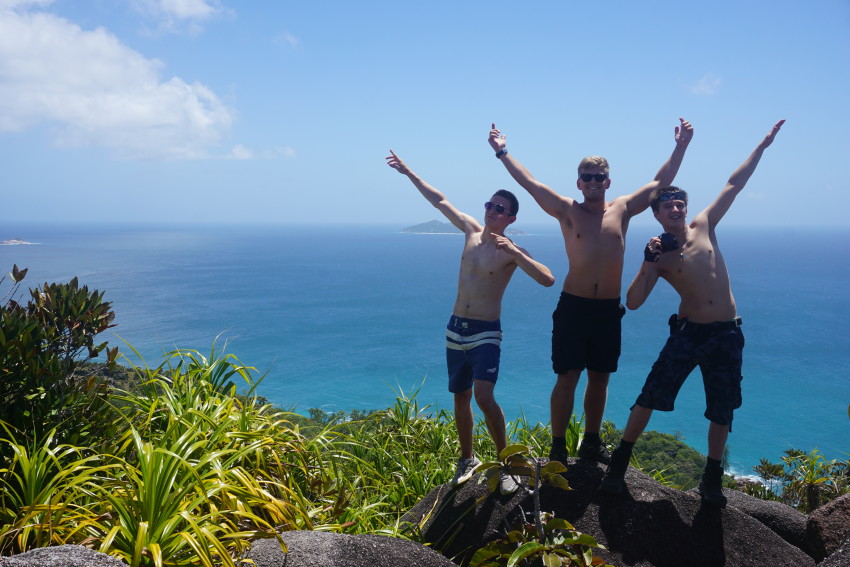 The usual weekend routine of gallivanting around the inner islands of the Seychelles was broken last weekend by a one off BBQ event hosted by the Seychelles National Parks Authority rangers on Saturday 15th August. The BBQ itself was a fantastic afternoon and a great chance for GVI to spend more time with the rangers over some food, football and several heated games of dominos. However, this event left us volunteers with a one day weekend – not enough time to warrant a trip to La Digue or the likes, but the perfect opportunity to explore a little more of the island we have all come to call home over the last few weeks. What better way to see the island than to climb to the highest point, the peak of Mount Curieuse!?
So on Sunday morning three of the guys, myself included, began the walk to the mangroves and along the Badamier trail. At the top of the trail we were finally able to see what lay in store for us; a steep ascent, no path and a host of rocks and razor palms for added fun! However, having completed a few Coco de Mer surveys on the hills, this feat was nothing new. The climb was challenging and the mountain teased us twice with false peaks but when we eventually reached the top we were rewarded with the most spectacular view I have ever seen. A 360 degrees panorama lay before us on a day so clear that the blues of the ocean and the sky seemed to flow naturally into one another. The three of us enjoyed a well deserved lunch on top of the mountain, with a backdrop like no other, before making our way back down still in awe of what we had just seen. This climb is an absolute must do for anyone coming to volunteer here on Curieuse! One anonymous volunteer enjoyed it so much as soon as we got down to the bottom, he decided he was going to turn right around and make the climb all over again (not at all because he had left his headphones at the top, of course).
GVI on Instagram
Sorry:

- Instagram feed not found.