Classroom renovation in El Cocal
For the past several months, the team in Quepos has been renovating a spare storage room at our school in El Cocal, with the goal in mind of turning this room into a classroom and resource room.  After a lot of sweat and sore muscles, the volunteers successfully pulled off a complete transformation of the space, and we now have a classroom out of which to base our operations in the school.  The creation of this classroom is extremely important to GVI's work in the school, because it now makes it possible for our volunteers to work one on one with students that need a little extra help in order to catch up with the rest of the class.  It also allows us to take a small group of the best English students from each grade and give them more concentrated attention in order to let them progress to their full potential.
The creation of this new classroom has everyone in the project very excited – the teachers are excited because they can now be more effective with their lessons while knowing that the students that need more concentrated help are receiving it, and the volunteers are thrilled because it lets them form a stronger connection to their students.  All in all, this is a big step towards GVI's ultimate goal here in Costa Rica – furthering the education of students in under resourced schools and giving them the one on one attention and encouragement that they crave.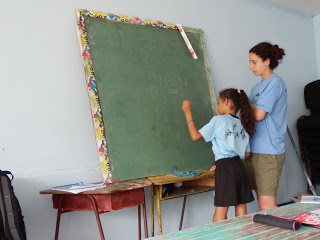 Subscribe to our Blog
GVI on Instagram
Sorry:

- Instagram feed not found.
GVI on Facebook