Christmas in a Karen hill tribe community might not be quite the same as we are all used to in our own countries but the GVI crew made sure that we brought our own festive spirit to our little village.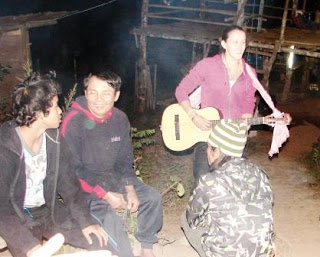 A few days before Christmas we busied ourselves decorating basehut and our makeshift tree, testing our origami folding, flag making and snowflake cutting skills! To compliment our cosy nights around the campfire we had a cooking session, where we all chipped in and cooked some hearty homely food to share with our bemused mahoots. Then to top off all our village Christmas festivities a group of us donned our beanies and scarves, grabbed our torches and a guitar and headed off round the village to share our angelic singing voices with the villagers with a carolling session. We went down a storm with our renditions of a number of carols, but mainly a loop of classics: Rudolph the red nosed reindeer, we wish you a merry Christmas, and Jingle Bells. We really felt the Christmas cheer as villagers came and gathered from all the houses to join in with us as we toured round the village and once again confused them all with another of our strange foreign rituals.
Subscribe to our Blog
GVI on Instagram
Sorry:

- Instagram feed not found.
GVI on Facebook