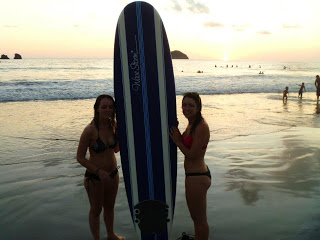 One of the perks of being a volunteer is that sometimes people like to give you things for free or at a discount, since you are volunteering your time in their community. Most days after school we head to the beach to cool off and relax before tackling our lesson  plans fro the week. Throughout the weeks we have become good friends with the volunteer lifeguards who also give surf lessons.
 After a few weeks of volunteering/beach bumming, our friends the lifeguards (Jhonny and Frank) said they would give us all free lessons and free Jet Ski rides. They lifeguard for free and we teach for free, and according to them volunteers must stick together and help each other out. Since then they have kept their word, and most of us have gotten one or more free lessons and even gotten to drive the Jet Ski.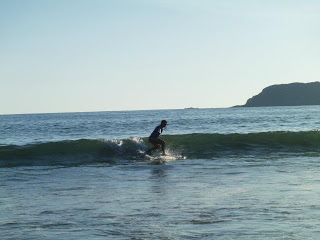 Last week Casey and I got our first lessons. These guys are nice on the sand, but in the water they turn into drill sergeants. Both of us imagined looking like cool surfer chicks, spending most of our time floating and chatting, and only a small amount of time looking like fools on top of the board. But no… it was the opposite, Jhonny and Frank incessantly shouted commands (only in Spanish) to paddle, get up, and then get back out to sea. For 45 minutes there were no breaks, no talking, no sitting. Just a lot of cardio and saltwater.  Instead of looking like surfer chicks, we probably just looked like drowned rats. Still, between falls we both caught a few waves. The lifeguards are strict but good teachers. By the end we managed to stay on our boards long enough for a few good pictures, and we proudly wore our rash guards that read "If I can do it, you can do it."
Subscribe to our Blog
GVI on Instagram
Sorry:

- Instagram feed not found.
GVI on Facebook