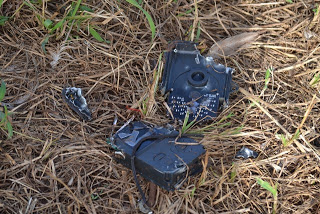 With all the fuss about the giraffe (Giraffa camelopardalus) carcasses on Hlambanyahti we thought it to be a good opportunity for using our only camera trap to capture nocturnal animals visiting these areas. For the first month the capture was very successful with Tawny Eagle's (Aquila rapax) and Vultures fighting, Lapped Faced Vultures (Torgos tracheliotus) with tags, Spotted Hyena (Crocuta crocuta) and even a Brown Hyena (Hyena brunnea).
About 2hours of video footage and a load of pictures this proved to be a successful way of determining the hyena population on the reserve.
We moved our camera to the South of the reserve to once again a fresh giraffe carcass.This was when the hyena found the camera more tasty than the carcass. Sadly we now have nothing but a empty shell as even the memory card had a tooth mark straight through it.
At least we are still involved in the camera trap census on Hlambanyahti Game Reserve, and we continue to find awesome animals on a regular basis on these permanent sites.
Ester van der Merwe
Base Manager
Hlambanyahti Game Reserve
Subscribe to our Blog
GVI on Instagram
Sorry:

- Instagram feed not found.
GVI on Facebook