Calvin Klein Obsession: For Jaguars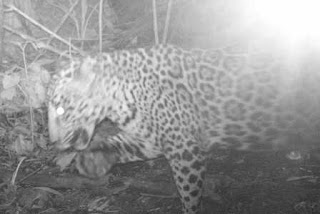 Since we've been having so many jag-spotting related posts lately, with at least 1 more amazing one (mine!) to come later this week, it seemed like a good time for an update on our jaguar camera-trapping project. We've actually been getting excellent results on all our trap locations. We've had 2 cameras at the mile 15 beach entrance for all of Phase 114 (October-December 2011), and have consistently been getting shots of passing jags. The results from Nov. 28 may have set a GVI record for pictures with jags caught. Two jaguars, named by GVI as Luca and Alex, were both caught entering the beach, as well as leaving the beach, spending about an hour on the beach. This amount of pictures clear enough to ID the jaguars is uncommon and was an exciting moment back on base while going through the camera memory cards.
One reason for our increased success rate is that we've begun using scent stations to help slow down jags as they run past the cameras. Going off a tip from a PANTHERA (a wildcat conservation organisation) worker, we've been using rags sprayed with Calvin Klein Obsession and placing them on stakes between the 2 cameras at mile 15. Jags are intrigued by the smell and are more likely to stop to investigate when passing through. In the past, even when a jag was caught on camera, it was often moving too fast to be identified. Since starting to use the scent stations, we've successfully re-identified 4 returning jags: Luca, Alex, Molly and Lyra. We also have caught a new, as-yet-unnamed jag and an ocelot using that entrance to the beach.

As if this wasn't exciting enough, we also have caught both Luca and Molly passing our cameras stationed on our South Boundary Trail. Not only does this mean that they're travelling right past our base, but Molly was captured at 4 PM, which would be right around the time a Biological Assessment Survey team on South Boundary would be returning. Needless to say, people are much more hopeful to be sent to South Boundary now.
Finally, we've also begun encountering jaguar scat on the beach, which is largely undocumented previously. We're hoping to begin collecting scat and extracting hair and bone samples from it during our next phases. In preparation for this, we've already begun experimenting with the scat and have found some surprising results. We've discovered that jags have begun eating sea turtle hatchlings, which has never been recorded for Costa Rican jaguars. We're excited to see if this is an anomaly or if jaguars are going to start consistently going after hatchlings, which obviously raises questions about how much this will affect sea turtle population sizes. We'll be sure to keep you posted as we continue to expand our jaguar projects.
-Zach H, Intern
Subscribe to our Blog
GVI on Instagram
Sorry:

- Instagram feed not found.
GVI on Facebook