One more time – as it always seems to happen here in South Africa – the weeks are flying and Daktari Delivery Derby day is getting really close!
Everyone is at full speed preparing themselves for our epic – and slightly crazy – challenge!
In less than a week from now (on 30th May), we will be pushing one of our Toyota Hilux research vehicles with school and stationery material from GVI house to Daktari!
The good news is that many shops in the local town of Hoedpsruit were really interested in helping us and we hope to collect some donated items (such as stationery, educational book etc) from them next week. The bad news (for us) is that any items they do donate…well, we have to push all that in the vehicle!
The challenge is to push that Toyota 11 kilometres on dirt and gravel roads, with some nice steep hills along the way. As I said before, just slightly crazy… and LOADS of fun!
We have been doing some practises – warming up, wearing gym outfits, stretching… all the pro stuff, you know – and it just made us even more excited about the whole idea of getting that truck to Daktari.
So, if you are around next week, come join us! My only advice is: bring your own water bottle (we will need them, that's for sure!) and a lot of enthusiasm!
Our long-term goal is to raise £6000 that will help the new Daktari Outreach Program. Every single bit means a lot to us, so thank you in advance if you are considering donating!
J
While you think about that, we at base, will be doing some extra star jumps between drives! Yay!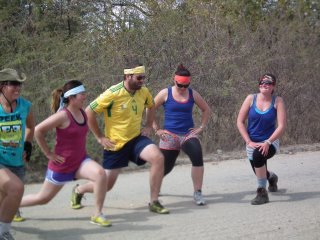 Samara Moreira (Base Intern)
Subscribe to our Blog
GVI on Instagram
Sorry:

- Instagram feed not found.
GVI on Facebook