By Emma Dawson, Volunteer Intern
5 years ago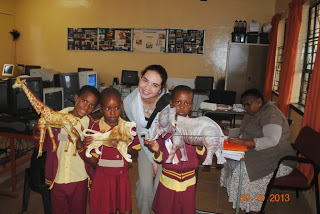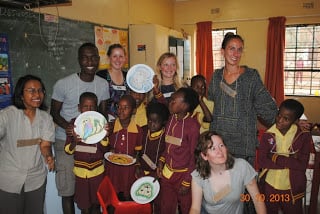 Having spent hours in 'Arts and Crafts' sessions with intern Vicky revamping the resources for our weekly community project, we were well prepared and raring to go on Tuesday! Our team of 7 volunteers and staff member Jamie arrived at The Oaks school and spent 30minutes with 9 children aged 8-9years.
Initially, the kids were very nervous and shy so we struggled to get even their names out of them, but with our selection of fun activities they soon gained in confidence. Firstly we used flashcards with pictures of various animals, asking them to identify them; their gorgeous faces lighting up when they got it right and were rewarded with stickers.
We then divided into 3 groups and moved round 3 stations. One group put together 3-D puzzles of an elephant, a lion and a giraffe; another group matched the name of an animal to a silhouette image. Thirdly, to teach them about food chains, we'd drawn animals onto paper plates and asked the children to match food such as impala, leaves or insects to the correct plate. For instance, the impala would go on the lion plate. The kids loved this and obviously enjoyed the interactive learning. We encouraged them to answer individually and also helped them with their English.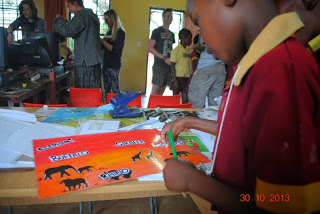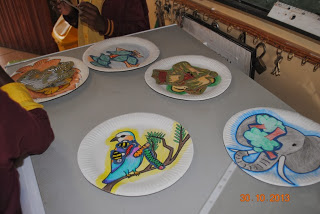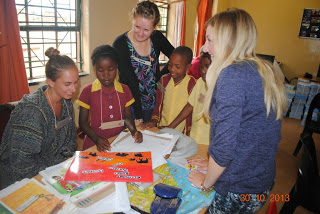 We used the rest of the session to get to know the children's favourite animals and ambitions and as we left there were high fives and thumbs up all over the place! They are fantastic kids and they were amazed and excited by having their photo taken – adorable! After the success of our new puzzles and games, we can't wait for our next trip and are busy coming up with new activities to build on the children's knowledge and appreciation for the awesome wildlife on their doorstep!