Appreciation for South African Heritage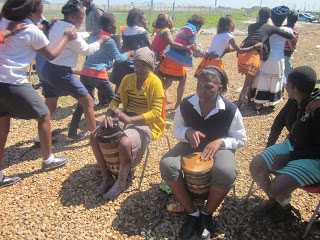 We were pleased to be part of the Heritage Day activities at ACJ.

 

It was a truly memorable experience
One of the highlights was the teachers singing and dancing with the children-What a talented staff! The volunteers had a chance to join in too which was great fun.
Part of the day was also children acting out stories from their past.

 

We appreciated that they took time to translate the stories into English for us.

 

The stories were of their religious past and of their ancestors. Seeing some of the traditional costumes worn by both staff and children added to the whole experience.
Traditional food was also a part of the celebrations and whilst the volunteers were not so sure about some of the tastes experiences it seems that sheeps heart was among the more favourable to the palette.
One of the really noticeable aspects of Heritage day was that the children were so engaged.

 

They listened to every story, joined in enthusiastically with the singing and dancing and really seemed to appreciate the importance of the day.
Subscribe to our Blog
GVI on Instagram
Sorry:

- Instagram feed not found.
GVI on Facebook