Some amazing mega fauna spotted at Pez Maya this week
By Alex and Siena
3 years ago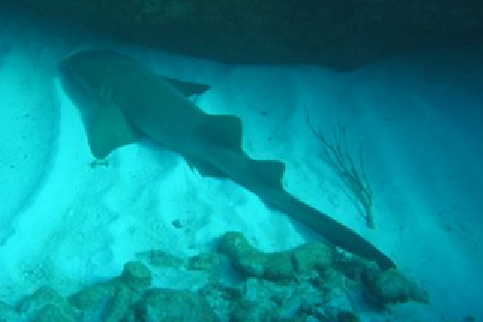 So apparently sharks don't always eat people….who knew? As a couple of Australians in our second week here at Pez Maya we have a heightened sense of (irrational) fear for the great beasts of the ocean. It was to our great surprise when the call of 'shark' did not inspire an immediate evacuation of the local area and a news helicopter overhead, but rather a sense of excitement, enthusiasm and even jealousy on the part of those that failed to catch a glimpse.
It was 4pm on Wednesday that our wise instructor, Scorpio, (given his uncanny resemblance of Scorpio from the Simpsons) emerged from the great blue with a grin from ear to ear and quietly announced that a Hammerhead Shark was sighted – a first for him, and a first on base for two years. As news spread throughout base, there were calls of outrage from volunteers and staff alike at having missed such a glorious and rare opportunity. It was only the day before that Scorpio had also spotted a Nurse Shark, so tempers were hot when it was discovered that he was on both dives with both sharks.
In Australia, just the whisper of the word "Shark" would result in mahem, national news coverage and the possibility of new war waged by the government against the "cold blooded beasts" – could our previous perceptions be misguided…?
It is refreshing and eye opening to see that the general attitude here is not one of fear, but instead of awe and appreciation. Being surrounded by so many young enthusiasts of Marine Biology, we are (slowly) coming around to the idea that perhaps the word Shark shouldn't be associated with fear and mortality, but instead beauty and grace.
Word has it, the Bull Sharks come to mate in these parts next month, so this realization has probably come at an opportune time….but as always we'll be last out of and first in to the boat.