Ain't no Mountain High Enough!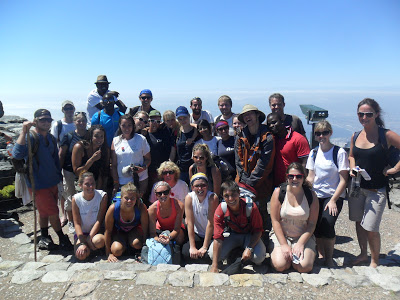 After two days of walking, our team of ten walkers who started down at Cape Point made it to Constansia Nek.

 

There were some really tough parts on the track, steep climbing and hot conditions but aside from this, the team were ready to take on the final challenge…Table Mountain. They were joined by project volunteers, office staff and field staff to make a team of 26 walkers for the final day. The walk was uphill from the very first step and people took on the challenge with great anticipation of reaching the cable car station at the top.

 

A hot day again and everyone was armed with lots of sunscreen and plenty of water as they followed our guide Biny up the track.
We stopped at 11am as it was Remembrance Day and took a minute's silence to remember our fallen soldiers and their families and to also think of future world peace.

 

It was fitting to have a team of walkers representing so many countries in our world who had come together for a common cause.
We then crossed the dam to continue our journey.

 

It was an amazing walk, the scenery around the dams in particular
was fantastic and the colourful wildflowers were great.

  

Admiring the view was a good excuse to stop for a rest from time to time!
There were smiles all round when we made those final steps to the top of the mountain. There were lots of team photos and amazing views.
Congratulations to the whole walking team.

 

Three days on the Heorikwaggo

 

Trail is an amazing feat and the team who walked the final day did a fantastic job too.

 

Of course the team also consists of support staff and drivers and their roles are crucial to a challenge such as this.
Well done to the whole team!!
Unfortunately, we are still short of our fundraising target.

 

You can show your support by visiting
You can also follow our progress on
Subscribe to our Blog
GVI on Instagram
Sorry:

- Instagram feed not found.
GVI on Facebook