Adjusting to Life on Base
By Jack Horrocks
2 years ago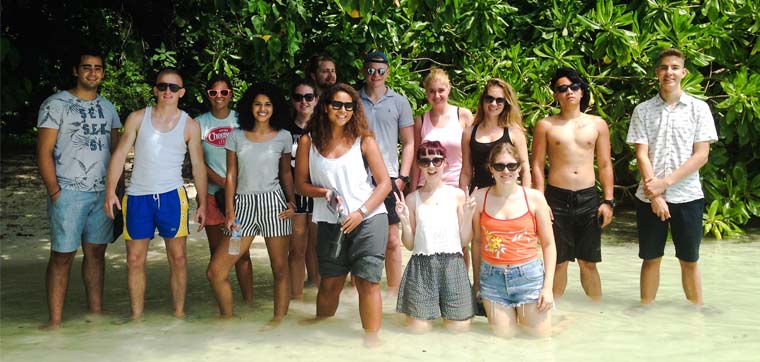 In the weeks leading up to traveling to Cap Ternay I had some expectations of what life would be like on base. To be honest I thought I was going to struggle, whether it be the time difference between home and the Seychelles, or the lack of Wi-Fi so that I couldn't binge watch random videos on YouTube. However after being here for 4 weeks, I feel like I have adjusted to the daily routine of a volunteer here at Cap Ternay quite well.
I have to admit that the daily duties were a grievance of mine to start off with. This is probably due to the fact that I slept in until after midday and barely moved for the first couple of hours after waking up when I was back home. Now the duties are just something you do without thinking twice about them.
The meal times on base is also something that you adjust to whilst here, because usually when you're at home you can decide when you have your meals whereas here there are set times for breakfast, lunch and dinner. The atmosphere is different too. Eating with a large group of people is very different to eating alone in your bedroom.
Everyday has an exact plan of all the things that are happening that day. So wake up can be anywhere between 6 and 8, which believe me is something to you learn to live with. Then 15 minutes after wake up it's time for duties. Duties will either be kitchen (making the food), tanks (refilling the tanks from the dives), boats (prepping all the equipment for the day's dives) or grounds (cleaning the toilets). Then you have breakfast, which usually consists of porridge and fruit, but sometimes is bacon and eggs (Tuesday) or pancakes (Thursday). Then the dives start and last all day. There are usually 3 or 4 waves of diving each day all with an allotted 2 hours each so by the time they've finished it's usually getting on for dinner which, alike breakfast, varies depending on what day of the week it is.
The weekends are a welcome relief for both volunteers and staff. The weekends are usually filled with a lot of sleep as you'd expect. Most of the time a fair few of the volunteers walk half an hour down the road to the Ephilia resort where they can have drinks food and even Wi-Fi. There are some local shops too where we can buy certain food we want for our meals over the weekend. For a few of us boys this is usually a lot of bacon and not much else.
Overall I have to say that I have thoroughly enjoyed the first month of my time here at Cap Ternay and cannot wait for the 2 more I have left.