A Traditional Lao Wedding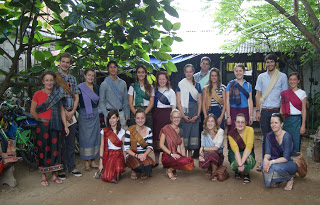 This blog entry was written by two friends- Sam and Lara who live in Germany and came on the project together for 6 weeks.
A few weeks ago all of the volunteers were invited to a traditional Lao wedding on a Wednesday. All classes for that day were canceled and we were picked up at 8.45 by mini-vans and drove to the wedding ceremony in a procession. The guys in shirts and long trousers and us girls in sins, the traditional Lao skirt. The wedding ceremony with family and friends was relatively small especially compared to what was expected in the evening. They told us that 1000 people would come to the wedding party in the evening.
But before we were picked up, everybody met at Xayadeth College. A long table with probably the biggest portion of sticky rice that I've ever seen, fish, chicken soup and more… We were also offered Beer Lao and when a Lao offers something you can't say 'no'.
We watched the bride and groom say their vows. An old man marries them, sitting between fried chicken and beans. We crawl 3 rounds on our knees in circles until we come to the new married couple at last. There we tie white string around the wrists of husband and wife, wishing them good luck in their marriage. It is an honour to be there. We are the only foreigners in a huge pile of Lao women in colourful magnificent sins and gold jewlery.
Then we ate again. This time: salad, pureed frog, sticky, Mekong seaweed, chicken and fish. At 12 they bring us all back to Xayadeth College. The band comes with us and so we decide to eat, drink, play music and learn Lao-style dancing from Xay the Lao teacher for the next 3 hours in the schoolyard. 3 hours we dance there- Laotian, Mexican and freestyle. Because obviously we have to prepare ourselves for the evening.
At 7.45 pm we drive to the wedding party, which takes place in a large badminton hall. Outside: A huge reception, bride and groom and a long row of relatives standing next to each other on a red carpet, smiling, waving and shaking hands. Obviously, we know none of them except the owners of the college we teach at and have our resource room in.
The hall is huge and they didn't lie with the number of guests. Everywhere are men, women and children in the most beautiful, colourful clothes. The 70 tables are cramped with food and of course Beer Lao. As beautiful the dresses are, as old and ugly are the plastic chairs the guests sit on and the floor has holes. Nevertheless, everything was awesome.
We go to the dance floor, when the first songs start. There is actually nothing besides eating, drinking and dancing, like a totally normal wedding. We use the new learnt step-step-step back dance that Xay taught us in the afternoon and we move our hands in little circles with all the other Lao. The dancing is really civilized, in circles without any physical contact of course. Everybody is dancing: Young, old and very, very old. We are wondering why everyone returns abruptly to their seats after the song is finished, and come back 2 songs later. Xay explains to us that between songs they go back to their tables to drink Beer Lao. Aha, so that's how you do it in Laos? Well, we want to fit into the other culture – let's go back to the table!
Later that evening the freestyle dancing begins. If you always wanted to dance like an idiot, now you have the chance. They form several circles, clapping and screaming with laughter. In the center of every circle a dancer (female or male) seem to imitate everything from turkey to rabid monkey and swears that it is an actual dance. We are also proud occupants of these circles, dance like idiots and are in awesome moods.
In between we go back to the table to eat mandarins and tamarind (a funny looking, delicious tasting Lao fruit). At some point a hand comes from behind me, holding a plastic cup right under my nose. All at the table including me look a little bit confused. It was but a tiny, wrinkled man. His face is so wrinkled, that even his wrinkles have wrinkles. He wears a black suit and grins at me, holding a bottle of whiskey in his hand. The whole table starts to laugh. I must drink. No question in that, because he actually can't hold the cup any nearer to my face. So down with it, it tastes horrible. The old man laughs and his little wrinkled form disappears to the next table. Oh, lovely Laos.
Subscribe to our Blog
GVI on Instagram
Sorry:

- Instagram feed not found.
GVI on Facebook