A Successful Daktari Delivery Derby
Who would push a Toyota Hilux 11 km up hills in the blistering sun? We would, of course, for charity that is!  On May 30th , the Daktari Delivery Derby finally took place – And it turned out to be a great success with lots of fun along the way.  Dressed in outrageous and silly gear, we began our odyssey at 6:45 a.m. and made it to Daktari by 11 a.m. Quite a feat!  The staff and volunteers at Daktari took bets as when we would arrive, and none were even close to the mark! One person even thought we'd have to cheat and start the car! Obviously, they don't know GVI.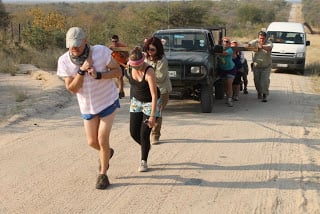 To be fair, the whole ordeal was not a walk in the park.  The numerous steep steep hills, the heat and the long distance made our efforts quite heroic.  We were encouraged all along the way with our speaker system rigged to the car and a dedicated number of friends helping and cheering us on.  Needless to say, "Eye of the Tiger" was played multiple times that day.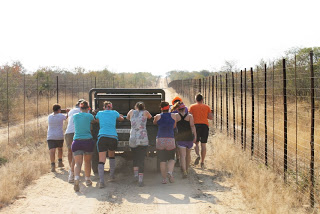 For our last 2 km, the team at Daktari joined us, making our final push seamless.  We stopped just 100m shy of Daktari itself so that the local school kids currently at Daktari could help us cross the finish line.  Afterwards, the kids gave us a beautiful performance of a few songs they put together and we presented them with our educational items that had been donated by local shops in Hoedspruit. The kids were overjoyed with their new ID books, colouring pencils and pens, ID posters, colouring paper, scrap paper and even a small pair of binoculars.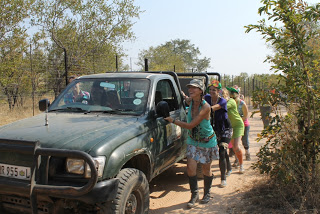 To date, GVI Charitable Trust has raised
£
2280.52
.  But it doesn't stop here.  This DDD was only the beginning of our fundraising for Daktari.  Our ultimate goal is
£
6000, all which will go to the Daktari Outreach program.  The program intends to engage with students in local schools, particularly those that have previously attended Daktari Bush School, to assist and facilitate establishing Eco-clubs and provide guidance for running environmental activities and educational programs. Activities such as litter clean-ups, educational bush-walks, day trips to learn about Eco-Tourism and wildlife sanctuaries will be organised along with assistance in achieving eco-school status, and much more.  We think it's
£
6000 well spent.  Please don't shy away from giving a donation, or maybe even another one, for this worthy cause.  We will continue to update the blog and facebook page with information about where the money will be going, once Daktari begin spending.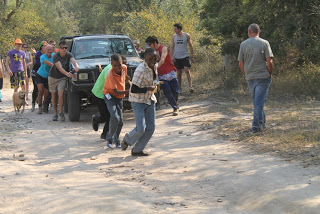 Highlights of the day, you ask? Peter Bradford, Country Director, in short running shorts and his wife's pink pyjama top, Daktari's goofy and sparky outfits, Zuri, our base dog's (
Canis lupus domesticus)
,
enthusiasm throughout the day, friends helping to come push and cheer us on, the kids helping us cross the finish line… There are just too many to count!  Overall, I don't think we could have expected anything better!  We now get to sit back, relax our sore muscles, and start concocting the next Charity Challenge!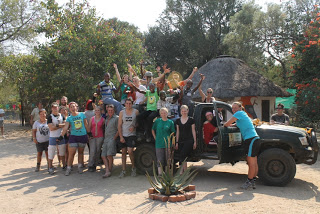 Once again, thank you all for your support, without which this would not have been possible!
Subscribe to our Blog
GVI on Instagram
Sorry:

- Instagram feed not found.
GVI on Facebook