A relaxing holiday up North, NAAAAAAT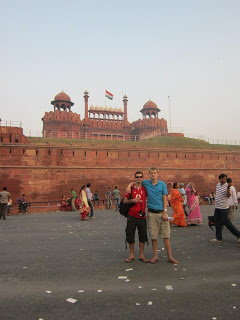 If Kerala and its pristine neighbours are what represent India's beauty than Delhi, Agra and Jaipur represent India's colour. A very useful result of our mistakes is the high horse presented to you to post mistakes, and from that high horse the ability to warn others and instruct others on how they should act and how they should choose to venture from the warm, pineapple-flavoured bosom of Cochin's shores and up to the hectic North.
Lesson One: Bring your resolve! In Kerala you may be pestered for money just a little whilst you are parading the shops and the stalls; in the North, you are constantly being sold something, or being convinced into believing that you've brought something for someone. For example: at every tourist attraction you'll be approached by a man waving a laminated card in your face with the declaration: "I am your OFFICIAL tourist guide". He is your NOT your official guide, and after half an hour of your refusing his services, he may just leave you alone. Others may demand money for such trivial tasks as taking your ticket from you, opening or guarding a gate you walk through, or even photo-bombing a picture you have taken. It is important to be stingy and pedantic with whom you give your money to and why.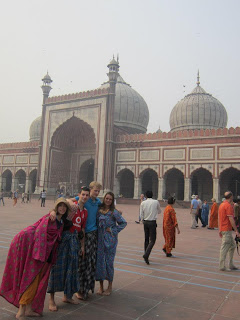 Lesson Two: (Usually) what is expensive is cheap and what is cheap is expensive. What I mean by that is that it is near impossible to enjoy Northern India on the cheap. (Respective to the money that you would spend in Kerala.) Book a cheap hotel and you will end up having to buy toilet paper, pay for shower usage; if you book an expensive hotel and you can be expected to be fully covered.
Lesson Three: Immerse yourself into the culture and embrace the experiences no matter how silly or short changed you may feel. Travelling isn't supposed to be going from one place to another and peering through a window on sights and different faces. You have to throw out the tour book and get you feet dirty, literally! Take a stroll through the busiest bazaar that you can imagine. Breathe in the smoke and dust filled air, the smells of the flowers, waste and the sizzling street food. Get covered up and walk barefoot around the largest mosque in India, while looking the hunch back of Notre Dame, lie in a field and watch the children play, marvel at the majestic Taj Mahal, Gaze out over a place over a lake donating the last of your funds to the holy priest for the health of your family, take the long way home, a two minute tuk tuk ride can turn into a 2 ½ hour walk through the dirt back roads and become a memory that you will never forget.
Love James Markham and Ashley Pavitt
Subscribe to our Blog
GVI on Instagram
Sorry:

- Instagram feed not found.
GVI on Facebook