A facelift for Grade R Nceduluntu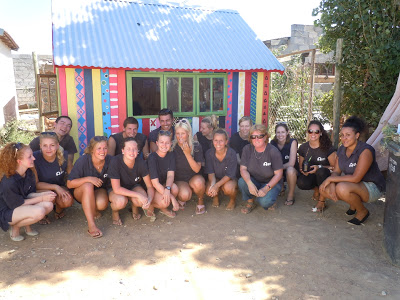 March 21st was a public holiday for Human Rights Day. With the school, nursery and Grade R closed, we decided to get the volunteers together and give Grade R a face lift. Our tasks; some weeding, paint the small house where we work and paint the back wall of the classroom.
The volunteers were on task from the word go and despite the rather hot weather, they worked industriously throughout the day.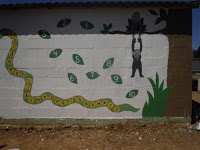 The weeding was completed in the first hour.

 

Meanwhile, some of the volunteers had painted the back wall white

 

in readiness for a mural.

 

Throughout the day we then saw an alphabet snake, a number tree and a rather cute pair of monkeys evolve on the wall.

 

We look forward to seeing the children's reaction when they see the scene.
The small wooden house where we work with the children had been looking a bit drab as the weather had affected the original painting but a very colourful facelift has created an amazing sight.

 

The volunteers painted each panel during the morning and then, once it was dry, they decorated it with an array of lines and patterns.

 

I think the photos speak for themselves!
In all a fun and productive day.

 

It's amazing what a group of people can achieve in a very short time.

 

The teamwork of the staff and volunteers is much appreciated. Working with children is certainly a big part of volunteering on our projects but when the children are on holiday s there are still valuable ways we can contribute and today was just on example of this.