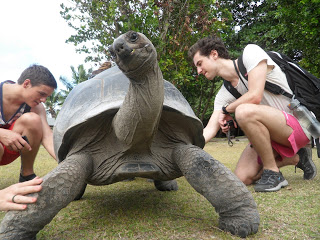 It is amazing how time manages to fly by when you are living in paradise. It seems that our Curieuse adventure has come to an end just as we were all fully embracing our new way of life. We celebrated our last full weekend together this past week by trekking over to the resort island of La Digue and staying in a quaint half-board bed and breakfast owned by a German man who had retyred to the Seychelles. The accommodations were not fancy, but the setting in the hills of La Digue was peaceful, and the pool (although freezing cold) provided for some fun late-night dips. The transportation of choice on the island is bicycles (we saw perhaps 2 or 3 cars the entyre weekend), which allowed us to enjoy the sun and gorgeous weather while we explored the extent of the island in search of great beaches and snorkeling opportunities. We, of course, made a stop at Source D'Argent so that we could enjoy the world's #1 ranked beach, and I could not pass up the opportunity to take my obligatory "be jealous of me" photo for Facebook here (sitting on the beach in my GVI Seychelles t-shirt, nonchalantly gazing out over the water like I owned the place). I have decided La Digue must be French for "Puppy Paradise". Seriously, the beaches are covered with stray puppies ready to greet everyone with little wet noses and playful wagging tails. Some just want to curl up in your lap, and others want to proudly parade you around their beach while chasing sand crabs. It is easily the world's cutest infestation. Our nights were spent soaking up the local culture at a bar on the shore, which included lots of dancing, island music, and a particularly epic moment when Tom used his new GVI-provided Emergency First Responder training to come to the aid of a local Seychellois man in-need.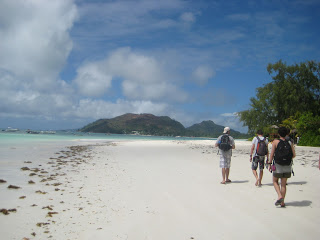 As we prepare for our last BBQ tonight, and our thoughts turn from the work we've been doing toward going home to families, friends, jobs, and school (not to mention hot showers, flushing toilets, and for once not actually being sandy), I know I may never have another chance at an experience like this. I will cherish the time spent and the sweat (especially on Coco De Mer surveys), the blood (mostly to the mosquitos), and the tears (mostly so far from Zach and Flo upon their departures, but I expect others to follow suit when we disperse from the island in the morning) shed for the Seychelles Terrestrial Project over the past month. I have spent my last few days in this paradise finding the last few spots I haven't been to yet, enjoying the feel of the sun, the smell of the ocean, and the sound of the crashing waves, and saying goodbye to my favourite tortoises (with one last tickle and one last handful of Hibiscus leaves). I now have a new tortoise friend who recognizes me as the guy who once "made it rain" Hibiscus leaves around him and now does his best to make his little legs run faster trying to follow me around every time I come to visit.
               

And so it seems we have reached the end of our tenure here on Curieuse Island (except for Laura, who still has another month to go, and will be spending it working with the next group of volunteers. It seems a bit sac religious to speak of the end of our one-month adventure as a closing point. We will leave, but the work will carry on. There are plenty of surveys to be done, and a new group will arrive just as we leave to carry it forward without skipping a beat, ready to make their own unique memories during their time here. I will never forget the excitement of finding a new baby Giant Tortoise, so small he could fit in the palm of my hand, proof they can successfully live and breed on this island. I will miss the heated afternoon volleyball practises and our epic 11-9 victory over the staff (even if they decide to conveniently forget it happened). I will still chuckle to myself when I think of the "Flo Dance", and I don't think my pictures will come close to instilling the awe I felt at seeing the sunrise from the top of Mt. Curieuse (so worth the 4:30 am wakeup and the grueling climb).
               

The memories weren't all great, though, and I know some of the others will stick with me as well, such as the afternoon during my day I of kitchen duty when Reggie, the base manager, showed up with 40+ lbs of fresh fish to clean, filet, de-bone, and cook in time for dinner (I am so sorry Mom for all the times we did that to you growing up), or the time I realised 2/3 of the way through the project that committing to whittle an entyre chess set was a terrible idea. I think we will all remember never to throw paper products into a primitive toilet after our week of having to use a latrine instead. I wish the next group of volunteers the best of their own special memories, and I hope they do not suffer our same mistakes. In the spirit of this, I wish to close by offering a bit of advice to said incoming group…things I wish I had known when I arrived. First of all, always hike behind someone taller than you. This way, he or she will be the one who keeps inadvertently walking into spider webs. If you happen to be tall, like me, and thus are not lucky enough to have this option, I suggest trying not to look down so much as you hike…or at least don't hike with your mouth open…trust me. Secondly, when you are on base, that's your chance to make everyone else listen to the music you want to hear, so make it count. Thirdly, if your scheduled survey has the word "inland" in it, give some consideration to wearing pants. Many people disagree with me on this, as it is hotter in pants, but I have yet to hear someone say "Man, I love how this razor palm bush feels brushing against my bare legs". Finally, I highly suggest exploring with your new-found friends and teammates during any off time. Visit other islands as a group, soak up some local culture, and bond a bit…the surveys aren't work when you're laughing and hiking with friends who share a common affinity for this place.
               

I know it is a bit cliché to wrap up the final blog in such a manner, with a heartfelt look-back at our time…but like all of us here, I have become a bit sentimental, as the time we have left here can now be counted in hours rather than days. I want to thank the staff, my fellow teammates, and GVI for this experience, and I am glad I could spend a month of my time this summer giving back to such a gorgeous and unique island.
               

Oh, by the way, Matt, if you are reading this…that sand crab that somehow ended up in your bed during our second week…that was me.