24/11/13 Weekly Update from Cap Ternay: SUBIOS, Turtle Nests, Advanced Open Water & More!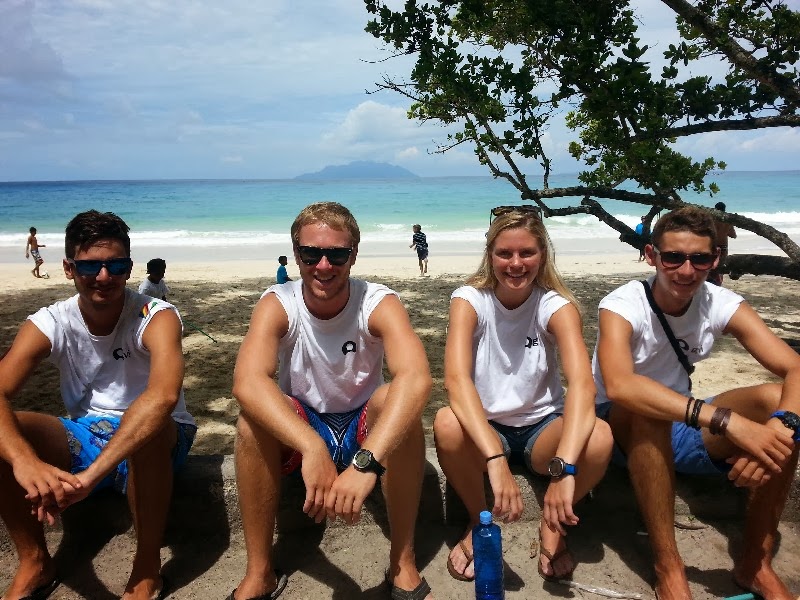 The first week at Cap T with our five new volunteers is complete. Adriana, Max, Hunter, Maggie and Tatyana have all settled in to base life, learnt how to run the compressor, cook for 30 people and completed their Advanced Open Water course. They've seen enough Indian redfin butterflyfish, soldierfish, emperor angelfish and more to get signed off on their fish in the water will begin their fish methodology this week.
It is turtle nesting season here in Seychelles, so we are starting to see more turtles on our weekly turtle dives. One dive pair saw four hawksbill turtles today in the span on 45 minutes!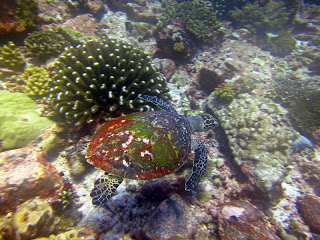 Hawksbill turtle
Seychelles is one of the only places where Hawksbill turtles come ashore and lay their eggs during the day.  Though most of the turtle nest monitoring happens on our terrestrial base on Curieuse, we do conduct turtle walks on 2 nearby beaches from October to March when we go out for our weekly plankton pulls. Last week we found turtle nest on one of the beaches. We will be keeping an eye on it over the next two months to see if the eggs hatch and the little hatchlings make their way to the sea.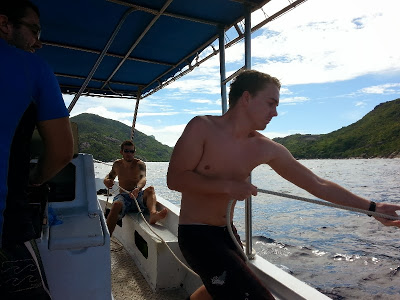 Volunteer Laurie doing the plankton pull
We also participated in a community event in Beau Vallon this weekend – SUBIOS, Seychelles Festival of the Sea. This year's theme was Sustaining Life in a Sea of Change. GVI teamed up with Save Our Seas Academy by the Sea and the Seychelles Turtle Festival to help local children make turtle hatchlings out of recycled egg cartons, glue and paint. The volunteers and kids enjoyed two beautiful days on the Beau Vallon beach. Volunteers were able to interact with the local community and sample lots of local foods available at the food stalls – everything from local Creole curries like kari koko poul (chicken coconut curry) to local sausage and chips.
Three of our volunteers even participated in the "SUBIOS Man & Woman Competition." Niklas, Jonas and Nico made a team and completed the 3 stages – swimming, running and canoeing. Though they didn't come in first, they put in a great effort and had lots of support from the rest of the GVI volunteers and staff cheering them on from the beach.
This week we are looking forward to the presentations and management days from our Divemaster Interns as well as a Thanksgiving feast on Thursday for all of our American volunteers.
Kate, Base Manager