24/06/2013 - A tad Curieuse
Curieuse, you have outdone yourself, knocking all my expectations off the perch. I couldn't be happier to call this paradise my home, the volunteers are my family and the staff my role models. The typical day is inevitable, unforgettable and so rewarding, and to experience all of this in our own backyard is something else. From wurtles to snurtles to tweets, every single day I learn something new, and sometimes I get lucky and remember it. But then there are some things that never change, I never imagined food would remain such a priority on an island as stunning as this, nor a six o'clock semi cold beer so irresistible. I've even begun to get a taste for Seybrew.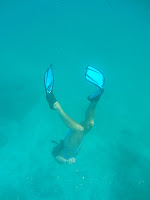 Weekends are a luxury as we splash out on hot showers and Wi-Fi…a time when it is acceptable to have an ice cream for lunch, or more often than not, two. Weekdays are hard work, but quite satisfying all the same. I think to work as hard as we do, and smell as rank as each other, yet begin and end every day with a smile is the definition of a good time. I wouldn't change this expedition for the world.
Here, we live for the moment, a place to find peace, to find one's self, and to finally to be able to concentrate on the essentials again.