23/10/13 - Curieuse Island, The German Blog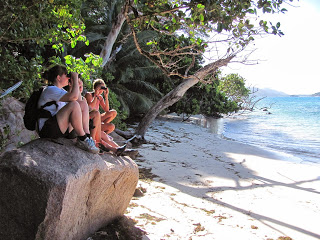 Every week a new blog, every week new information about the project on Curieuse Island, but what is the little problem?!
Everything is written in English!
Zunaechst muesst Ihr wissen, dass Ihr fast alleine auf einer der wunderschoenen Inseln der Seychellen lebt. Hier trifft sich Jack Sperrow mit Robinson Crusoe, denn bei den bezaubernen Sonnenuntergaengen kommt man sich wie in einer anderen Welt vor.
Doch ersteinmal alles von Anfang an:
 

Alles beginnt mit dem gemeinsamen Zusammentreffen vor der Faehre auf Mahe, wenn man nicht schon zufaellig, so wie ich, Leute im selben Hostle trifft, die das selbe Projekt gewaehlt haben. Zur Faehrenfahrt kann ich nur eins sagen: Nehmt Reisetabletten mit! Die Wellen schlagen ueber die Faehre und fuehren zu starkem Erbrechen. Auf Praslin angekommen, geht es zur Anse Volbert. Von dort wird man mit dem GVI Boot

 

'' Dexter '' auf Courieuse gebracht ( ein feucht froehlicher Spass). Kaum angekommen geht es zur Campbesichtigung und Bettenzuweisung.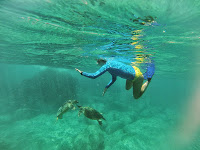 Alles recht rustikal, aber es gibt Wasser und abends Strom durch Solarenergie. Bewacht werden wir von Digby, einem '' suessen'' Hund. Wenn dieser bellt, trauen sich die Touristen, die tagsueber die Insel erkunden, meist nicht ins Camp. Unser Arbeitsalltag: Jeden Tag werden jeweils zwei

 

Volontaere zur Kuechenarbeit eingeteilt. Hinzu kommen Arbeiten mit der beruehmten Coco de Mer Palme, dem Markieren der Landschildkroeten rund um die Rangerstation, bis hin zum Erforschen der Mangrovenwaelder und regelmaessiger

 

Vogelbeobachtung. Aktuell ist die wichtigste Aufgabe die Suche nach Hawksbill Meeresschildkroeten, die zu dieser Zeit ihre Eier an unseren Straenden verbuddeln.
Ein Arbeitstag fuer einen Voluntaer beginnt morgends zwischen 5.00 und 7.00 Uhr.
 

Der Tag endet fuer alle meist zwischen 20.00 und 21.00 Uhr (unglaublich aber wahr!!!!! : D ) .
Auf dieser Reise erlebt ihr die weltschoensten Straende, gemischt mit einer farbenfrohen Kultur und unvergleichlich schoenen

 

Ausfluegen zu den Nachbarinseln.
Freut euch auf eine Zeit, die Ihr nie vergessen werdet!!!!!!
English version of the German blog:
We are living on a wonderful island in the Seychelles called Curieuse Island. It is like Jack Sparrow from Pirates of the Caribbean meeting Robinson Crusoe!
But let's start from the beginning:
We all met at the ferry port in Mahé, it was the first time we all got to see each other. We had an hour's boat trip to Praslin. The first big problem we encountered was the rough seas, which caused sea sickness amongst not only the GVI crew, but the other passengers. We definitely advise taking sea sickness pills with you; otherwise you might spend the journey with your head in the toilet! From Praslin you will get picked up by the GVI staff in the boat called Dexter, which is a lot of fun. After arriving you get a base tour and introduced to the rules on the camp and you get your own bed. The camp is rustic and simple and you must beware of the dog called Digby.
But now to the daily tasks:
–
Two guys are on the base for cooking and cleaning the camp
–
We do long and short Tweets, which means looking for birds and counting them
–
We mark and recapture the giant tortoises that live on the Rangers station
–
But last and not least: looking for Hawksbill turtles, which are laying their eggs and nesting on our beaches.
The daily tasks start
between 5 and 7 am. It is unbelievable, but true that we are going to bed between 8 and 9 in the evenings.
J
On this project you will see wonderful beaches, amazing nature and you will have a lot of other emotional moments.