19/06/2013 - A week in the life of........
Our camp might be small and a little basic but has everything you need and in a few days feels like home.

 

I was amazed when I first saw it how close to the beach it was, be prepared to get sandy.

 

But it's perfect for a cool off after a busy day of bird watching, giant tortoise tickling or searching for Coco de Mers.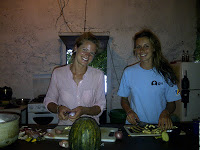 Cooking has to be one of my personal highlights, normally there is a bit of competition between Shark Shack and Leper Lodge, Shark Shack is the best! But as only 5 of us we all just help each other; as everyone has come from different countries and experiences' the dishes can vary.

 

The best part of the kitchen, apart from the fridge, is the oven; you get to make fresh bread everyday and even cakes and biscuits when in the mood.

 

We were told on our first day, whenever we grate coconuts Noel will make cookies…

 

Although we have set the standard pretty high, so bring your A game!
It's not all work though, if you need a bit of a break there are amazing views from the tree house or just relax on the hammock.

 

At the weekends after our Friday night bbq, we can get Dexter; our boat, over to Praslin for the day or go a bit further afield, we had a weekend trip across to La Digue to see the best beach in the world, definitely worth going if you have the chance.
The people I've met have just made the experience; everyone is laid back and good fun.

 

Evenings are always great, chilling with music or movie nights, although an early night is sometimes needed for those occasional 6am starts!
The only downside is how fast it is going, only here for the month and not long enough!