19/06/13 Greetings From Paradise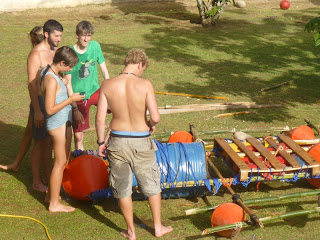 This week has been a busy one as usual, no matter how much we would like to sit and sunbathe, there are always things to be done. The diving, along with the spotting of cool creatures such as helmet shells and conchs the size of footballs, helmet gurnards with wings bigger than their bodies, and leaf-like scorpion fish, has continued as usual, with the added rush to finish our now nearly complete pleasure craft, a.k.a rafts.
Tensions are rising as teams tease each other about who will win, and preliminary water trials are showing some more reliable designs than others, but everyone is excited to get on the water and prove who's the saltiest of sea dogs. Fund raising is just off the total, only a few more pounds to go (come on guys, give generously, it's for a good cause!) and everyone is eager for the BBQ to follow it.
Good spirits are continuing, helped along by the sun who has been around a bit more for the last few days. It's a strange thing to say that 27 degree (Celsius) water is enough to warrant wetsuits, but it can get pretty chilly when you're floating around upsidedown with your face 2 inches from the reef.
A group of us climbed the "Pitcher Plant" trail, a hike up the mountains around Victoria, relishing the chance to see the pitcher plants (carnivorous plants) in their natural habitat; you see, not all that we do is related to fish! I cannot believe its only 2 weeks to go until we say goodbye to friends and the camp. For us lucky few dive-masters, the adventure continues (only half way), but for many the last chances to sunbathe and work on that killer tan are just round the corner. At least there are many good memories and pictures to last a lifetime.
By the way, those photos are going to be rubbed in as much as possible when we're all home! Until next time,
From paradise,
Kyle