18/07/2013 - The Truman Show
I never once thought that 7am could feel like a real lie-in… but on Curieuse it certainly does, life begins at 5.30am for those lucky few that are carrying out Coco De Mer surveys or inland bird surveys known as "Tweets" in GVI's very own language which also contains 'Snurtles' and 'Wurtles'. Each jam packed and often exhausting day is incredibly rewarding in a huge array of ways on this island from the breath-taking scenery and the constant laughs with our temporary island family to the cold(ish) Seybrew beer with dinner. I say "family" due to the immediate bonds that are formed here between the like-minded volunteers and staff we share base with (Even if I am severely outnumbered as the only Scottish person here), something 'Curieuse' (terrible I know) happens to everybody here causing a brilliant lack in almost all inhibitions that we may previously have held before beginning our adventures here; this of course leads to a lot of sore stomach muscles from laughing throughout the day and night. Upon mentioning how tiring some days can be, I need to stress that each day also seems to hold enough free time to allow a long laze in the hammock and also play multiple games of highly intense volleyball which seems to have scared off any form of staff participation since the first volunteer Vs. Staff match!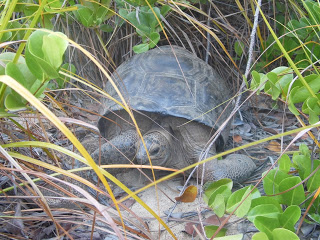 After we had chosen to spend the weekend in a fantastic hotel on the opposite island, Praslin, our third week in our Seychellois home began and I was lucky enough to be part of a 'Tortoise Tickling' survey which led to the discovery of a new tortoise that had not previously been marked and recorded, So I would like to personally welcome Truman, the tortoise, to the team. It will never not seem incredibly strange to me to stumble upon Giant Tortoises on steep, often dry and rocky slopes, I just cannot imagine these cumbersome creatures hiking up to these areas. The very next day three of us also had the chance to partake in a long Coco De Mer survey which took us up Mount Curieuse leading to an unbelievable 360° view of the whole island and surrounding areas, this also happened to be Flo's last survey as her time as a scholar here sadly comes to an end, and I'm sure her dancing will be greatly missed around here.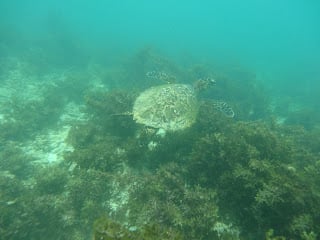 This week has been a particularly busy one in terms of sightings, as half an hour ago, immediately before beginning to write this very blog, I was part of a snurtle which led to swimming alongside a hawksbill turtle for a good few minutes (Which our Aussie member, Laura B, managed to catch a great photo of), I doubt I've ever been as excited, nor made a high pitched sound quite like I did upon spotting it, since Christmas '99.
To attempt to sum up life here on Curieuse I cannot stress enough how amazing this place really is, the beauty of this island will never get boring, the unique personalities of each and every Giant Tortoise you come across will never fail to amuse, the staff who lead and manage the base are incredibly easy-going yet knowledgeable and right from day one they seem to become a friend and finally, not to mention the fellow volunteers which are all simply brilliant people; Curieuse is an experience in its own right and this adventure will never be forgotten. On top of the many conservational lessons that we learn here I'm sure everybody here will agree that there are two incredibly important and vital lessons that are truly taken in; the value of a warm shower and a flushing toilet!
Finally, one of our team members Nate would like to send out a special happy birthday wish to his mom on Saturday July 20

th

.