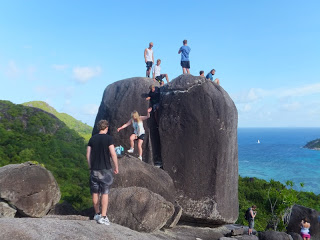 Start of a brand new month, with 5 sparkly new volunteers arriving on Saturday, whilst they settled into base, some of the older guys attended Shark Day at the National History Museum lending a helping hand and teaching the kids about all the different types of shark here in the Seychelles. Though I'm sure we had much more fun paper macheing the whale shark than they did.
Back at base the Camp Volleyball Tournament started off with some questionable skills from all involved but with fish and coral teams all ready for a rematch.
Last night was spent with everyone settling in and getting used to their new roommates with a little help from a excellent pub quiz organised by Jess and everyone enjoyed a yummy orange and coconut cake for Andys birthday.
Monday morning called for a little sprucing up of Cap Ternay, with one group heading up Cap Matoopa clearing the trail and on the hunt for the ever elusive chameleon and the even more mythical Seychellois Bear, whilst others cleared the pathways to the beach and build a wall for the coconut pile.
Were all looking forward to carrying on with Diving, getting Advanced Open Waters and Methodolgies and hopefully getting another sighting of the dolphins spotted yesterday, and as always hungry for Mexican Barbecue Night on Thursday.
Hope your having fun in the rest of the world