02/04/13 - Bird Island Adventures
We got the chance to visit Bird Island last weekend. It's a 30 minute flight from Mahe but it feels like a world away. You arrive at the domestic terminal of Mahe airport to check in. To say its relaxed is an understatement. We mentioned we might have some liquid over 100 ml not in a bag. The check in assistant asked us what it was. We said shampoo and sun tan lotion. She went away and asked someone and returned saying that would be fine! Our boarding card is a big thick piece of cardboard which we duly hand in and wait to board our tiny little plane. I reckon there was about 12 of us on there. No room for air hostesses – no need really as the flight is so short. 
As we near Bird Island you get a glimpse from the air of the splendour of this place. Crystal clear turquoise seas surrounding the mile square island, which itself has a belt of white beaches holding it all in. The runway is pretty primitive but we all land safely and are warmly welcomed by our hosts. The island was bought about forty years ago and they have steadily built the most amazing eco wildlife sanctuary/resort. 
The bungalows are basic by some standards but compared to camp life it's positively luxurious. The food is also more varied and fresh compared to camp food. Plus a fully stocked bar….
The first afternoon was spent snorkelling. We saw turtles, rays and all the usual tropical fish. Visibility is AMAZING. We then settled down on the other aside of the island (at least a four minute walk) to see the sun plop down over the horizon. We are just 3 degrees south of the equator here  once the sun disappears the birds (of bird island) immediately come back to roost for the night (although sea birds apparently do not really sleep much apparently). We have turns, noddies, lesser noddies, white tailed tropic birds,  and stacks more that I can't remember the name off. They have been steadily improving the environment for these migrating birds. So much so that at peak time they have 3-4 million of them here!
The following morning started early with a 7.00 boat ride to,see some dolphins. It's always a bit hit and miss with dolphins however we saw a small pod more or less straight away. They were spinner dolphins and yes, they did spin when they jumped out of the water. We thought this was good however on the horizon our trusty guide spotted lots of them. There must have been 200-300 of them. Many of them came round the boat and swam around us as if they knew what we were waiting for. I've seen dolphins before but this was really special. The other amazing thing was to look back at our little island from the boat. You really do feel very special out here.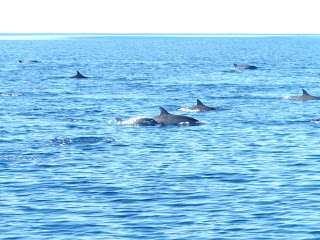 After breakfast we were taken on a nature walk round the island. We met some of the giant tortoises, some young chicks, nesting birds, spiders etc… The birds here are not afraid of humans as there is no threat from us here so we get be really close to the action. We also learnt of the myriad of uses of the papaya fruit. After all this excitement I needed a lie down… Which I did 🙂
Post lunch we hired a kayak and went round the island. When I say this was one of the most memorable days of my life I am not joking. Simply stunning. This kayak trip was like a dream. The sea was SO turquoise and look,to your left you see your very own island. Look down you can see 5-10 metres down to the bottom of the ocean. The waves are breaking gently on the reef  offshore. There is no sound but the sea and apart from one side of the island where you can see Sillouhette island and a bit of Mahe all you see around you is sea.  We stopped off for a bit of snorkelling. We were expecting to see some sharks but none appeared so far….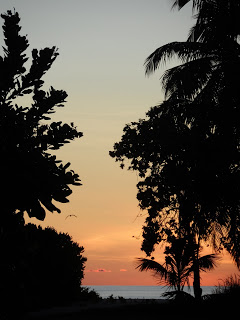 As I write this blog I am on the porch of my bungalow looking out at an incredible sunset, birds chirping away and flying around in the dusk. Shortly the stars will be out. There is of course NO light pollution so you see the stars in all their glory. 
Charlotte Orba
12 week Marine Expedition Volunteer, Cap Ternay